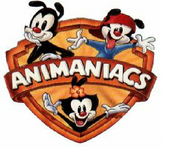 Steven Spielberg Presents Animaniacs,
better known as
Animaniacs
was an American animated television series created by Tom Ruegger. It is the second collaboration made by Steven Spielberg and Warner Bros. Studios. Their first series, Tiny Toon Adventures, was succesful among younger viewers, and attracted a sizable number of adult viewers.
The show was a mix of slapstick, pop culture references and cartoon violence, as well as featuring atleast on educational segment, usually in musical form. The show had a large cast of characters and no plot, although each episode was divided into segments. The show had 99 episodes spanning over 5 seasons, and one film, entitled Wakko's Wish, which was released on DVD in 1999.