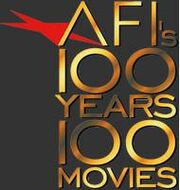 The first of the AFI 100 Years… series of cinematic milestones, AFI's 100 Years…100 Movies is a list of the 100 best American movies, as determined by the American Film Institute from a poll of more than 1,500 artists and leaders in the film industry who chose from a list of 400 nominated movies. The 100-best list was unveiled in 1998.
It was released in video in two versions: a 145-minute version, which aired on CBS, and a 460-minute version, which aired as a 10-part series on TNT. It was hosted by Jodie Foster, Richard Gere, Sally Field and narrated by James Woods. However, the following note is found on the AFI website, "NOTE: Due to licensing restrictions, the telecasts of the AFI 100...100 Series are not available for distribution or purchase on DVD or VHS." This apparent discrepancy may result from unclear use of the phrase "...released in video...", implying that the performance may be available for public purchase. AFI seems to clearly indicate this is not possible.
An updated version of the list, billed as a 10th Anniversary edition, aired on CBS on June 20, 2007, and was hosted by Morgan Freeman.
Films were judged according to the following criteria.
1. Feature-length: Narrative format, at least 40 minutes long.
2. American film: English language, with significant creative and/or financial production elements from the United States. (Certain films, notably The Bridge on the River Kwai and Lawrence of Arabia, were British-made but funded and distributed by American studios.)
3. Critical Recognition: Formal commendation in print.
4. Major Award Winner: Recognition from competitive events including awards from organizations in the film community and major film festivals.
5. Popularity Over Time: Including figures for box office adjusted for inflation, television broadcasts and syndication, and home video sales and rentals.
6. Historical Significance: A film's mark on the history of the moving image through technical innovation, visionary narrative devices or other groundbreaking achievements.
7. Cultural Impact: A film's mark on American society in matters of style and substance.
| # | Movie | Year |
| --- | --- | --- |
| 1 | Citizen Kane | 1941 |
| 2 | Casablanca | 1942 |
| 3 | The Godfather | 1972 |
| 4 | Gone With the Wind | 1939 |
| 5 | Lawrence of Arabia | 1962 |
| 6 | The Wizard of Oz | 1939 |
| 7 | The Graduate | 1967 |
| 8 | On the Waterfront | 1954 |
| 9 | Schindler's List | 1993 |
| 10 | Singin' in the Rain | 1952 |
| 11 | It's a Wonderful Life | 1946 |
| 12 | Sunset Blvd. | 1950 |
| 13 | The Bridge on the River Kwai | 1957 |
| 14 | Some Like it Hot | 1959 |
| 15 | Star Wars | 1977 |
| 16 | All About Eve | 1950 |
| 17 | The African Queen | 1941 |
| 18 | Psycho | 1960 |
| 19 | Chinatown | 1974 |
| 20 | One Flew Over the Cuckoo's Nest | 1975 |
| 21 | The Grapes of Wrath | 1940 |
| 22 | 2001: A Space Odyssey | 1968 |
| 23 | The Maltese Falcon | 1941 |
| 24 | Raging Bull | 1980 |
| 25 | E.T. The Extra-terrestrial | 1982 |
| 26 | Dr. Strangelove | 1964 |
| 27 | Bonnie and Clyde | 1967 |
| 28 | Apocalypse Now | 1979 |
| 29 | Mr. Smith Goes to Washington | 1939 |
| 30 | The Treasure of the Sierra Madre | 1948 |
| 31 | Annie Hall | 1977 |
| 32 | The Godfather Part II | 1974 |
| 33 | High Noon | 1952 |
| 34 | To Kill A Mockingbird | 1962 |
| 35 | It Happened One Night | 1934 |
| 36 | Midnight Cowboy | 1969 |
| 37 | The Best Years of Our Lives | 1946 |
| 38 | Double Indemnity | 1944 |
| 39 | Doctor Zhivago | 1965 |
| 40 | North by Northwest | 1959 |
| 41 | West Side Story | 1961 |
| 42 | Rear Window | 1954 |
| 43 | King Kong | 1933 |
| 44 | The Birth of A Nation | 1915 |
| 45 | A Streetcar Named Desire | 1951 |
| 46 | A Clockwork Orange | 1971 |
| 47 | Taxi Driver | 1976 |
| 48 | Jaws | 1975 |
| 49 | Snow White and the Seven Dwarfs | 1937 |
| 50 | Butch Cassidy and the Sundance Kid | 1969 |
| 51 | The Philadelphia Story | 1940 |
| 52 | From Here to Eternity | 1953 |
| 53 | Amadeus | 1984 |
| 54 | All Quiet on the Western Front | 1930 |
| 55 | The Sound of Music | 1965 |
| 56 | M*A*S*H | 1970 |
| 57 | The Third Man | 1949 |
| 58 | Fantasia | 1940 |
| 59 | Rebel Without a Cause | 1955 |
| 60 | Raiders of the Lost Ark | 1981 |
| 61 | Vertigo | 1958 |
| 62 | Tootsie | 1982 |
| 63 | Stagecoach | 1939 |
| 64 | Close Encounters of the Third Kind | 1977 |
| 65 | The Silence of the Lambs | 1991 |
| 66 | Network | 1977 |
| 67 | The Manchurian Candidate | 1962 |
| 68 | An American in Paris | 1951 |
| 69 | Shane | 1953 |
| 70 | The French Connection | 1971 |
| 71 | Forrest Gump | 1994 |
| 72 | Ben-Hur | 1959 |
| 73 | Wuthering Heights | 1939 |
| 74 | The Gold Rush | 1925 |
| 75 | Dances with Wolves | 1990 |
| 76 | City Lights | 1931 |
| 77 | American Graffiti | 1973 |
| 78 | Rocky | 1976 |
| 79 | The Deer Hunter | 1978 |
| 80 | The Wild Bunch | 1969 |
| 81 | Modern Times | 1936 |
| 82 | Giant | 1956 |
| 83 | Platoon | 1986 |
| 84 | Fargo | 1996 |
| 85 | Duck Soup | 1933 |
| 86 | Mutiny on the Bounty | 1935 |
| 87 | Frankenstein | 1931 |
| 88 | Easy Rider | 1969 |
| 89 | Patton | 1970 |
| 90 | The Jazz Singer | 1927 |
| 91 | My Fair Lady | 1964 |
| 92 | A Place in the Sun | 1951 |
| 93 | The Apartment | 1960 |
| 94 | Goodfellas | 1990 |
| 95 | Pulp Fiction | 1994 |
| 96 | The Searchers | 1956 |
| 97 | Bringing Up Baby | 1938 |
| 98 | Unforgiven | 1992 |
| 99 | Guess Who's Coming to Dinner | 1967 |
| 100 | Yankee Doodle Dandy | 1942 |